Todo #14215
closed
Redmine - Add CE to pfSense 2.6.0/2.7.0 Repo names for clarity
---
Description
Is it possible to add the CE to the 2.6.0 and 2.7.0 Redmine repo names so they follow your other products naming.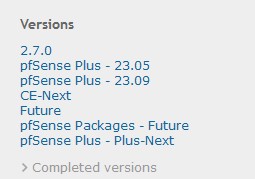 ---
Files
Status changed from New to Closed
We can consider that for future versions but changing existing ones can have some unintended side effects.
Given the difference in version numbering and the fact that plus is labeled Plus, it should be clear enough for most people to follow as-is.